Willkommen!
Auf dieser Seite bieten wir Ihnen erweiterte Inhalte zu verschiedenen Themen wie z.B. die Integration von Roboterflotten in ein Lager oder wie die Zukunft des Fulfillments aussehen könnte.
Entdecken Sie unser Whitepaper, Live- und On-Demand-Webinare!
---
Kommende Online-Events & Webinar 2020
Auch für die Quartale 3 und 4 planen wir dieses Jahr mehrere Live-Webinare zu veranstalten!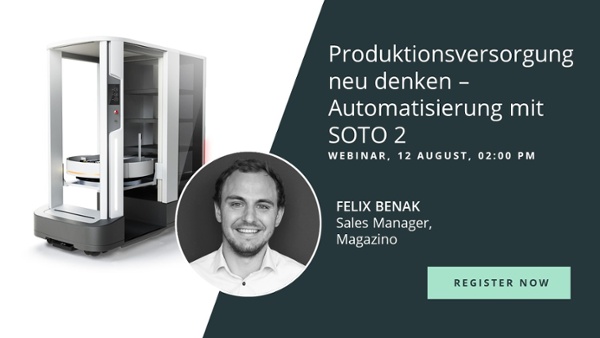 Produktionsversorgung neu denken
Durch SOTO 2 wird die Produktionsversorgung mit Kleinladungsträgern erstmals vollständig automatisiert. Von der Kommissionierung, über den Transport bis hin zur Verteilung der Kleinladungsträger direkt an die Arbeitsplätze ist mit SOTO 2 alles möglich. Lassen Sie uns die Produktionsversorgung gemeinsam neu denken!
(12. August 2020)
Jetzt anmelden
Use case insights: Eobuwie.pl
How the polish e-commerce giant implements mobile picking robots. In this webinar we will share some insights together with our first customer from Poland: Eobuwie. Together with Tomasz Kupidura (Logistics Director at Eobuwie), we will talk about the use case with the mobile picking robot TORU in the shoe warehouse of this major e-commerce player.
(19. August 2020)
Jetzt anmelden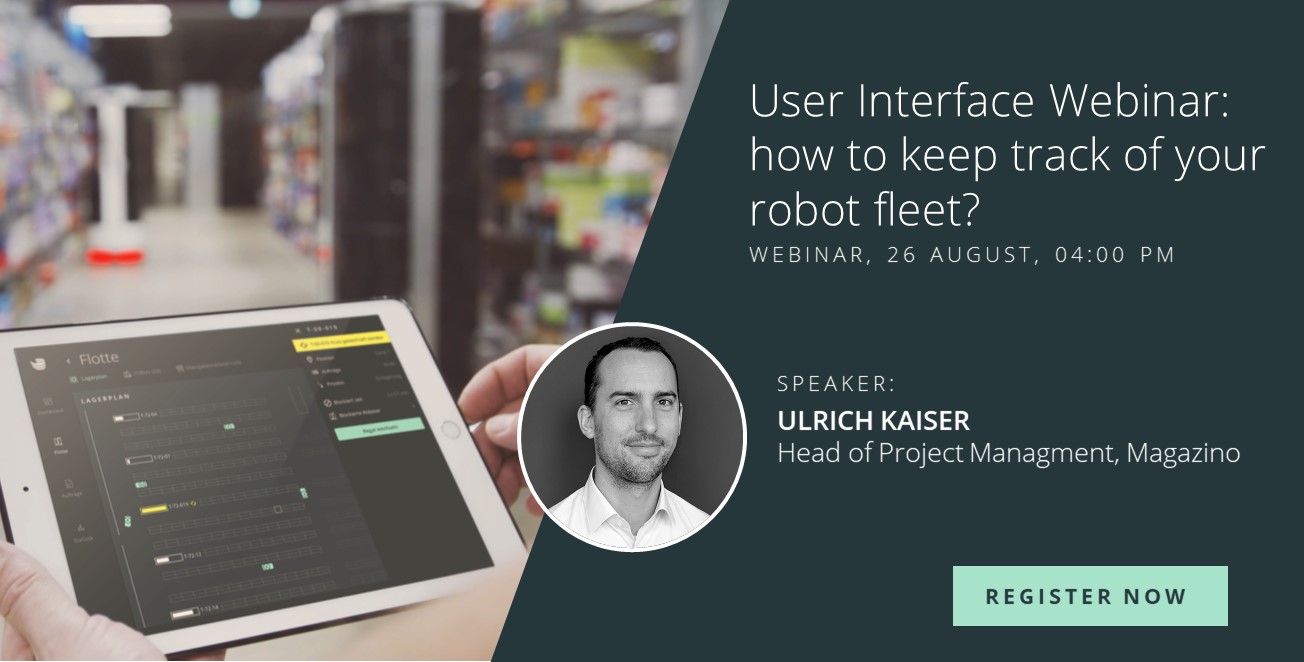 User Interface Webinar: how to keep track of your robot fleet?
In this 30 minutes webinar you will learn more about the Magazino interface for mobile picking robots: ARC (ACROS Robot Control). Ullrich Kaiser, Head of Project Management at Magazino, will show you the most important aspects of the daily life of running an autonomous robot fleet in your warehouse.
(26. August 2020)
Jetzt Anmelden
User Interface Webinar: how to keep track of your robot fleet?
Jetzt Anmelden
---
On-demand Webinare
Sie haben unsere Live-Events oder Webinare verpasst? Kein Problem - hier können Sie auf die aufgezeichneten Videostreams zugreifen:
---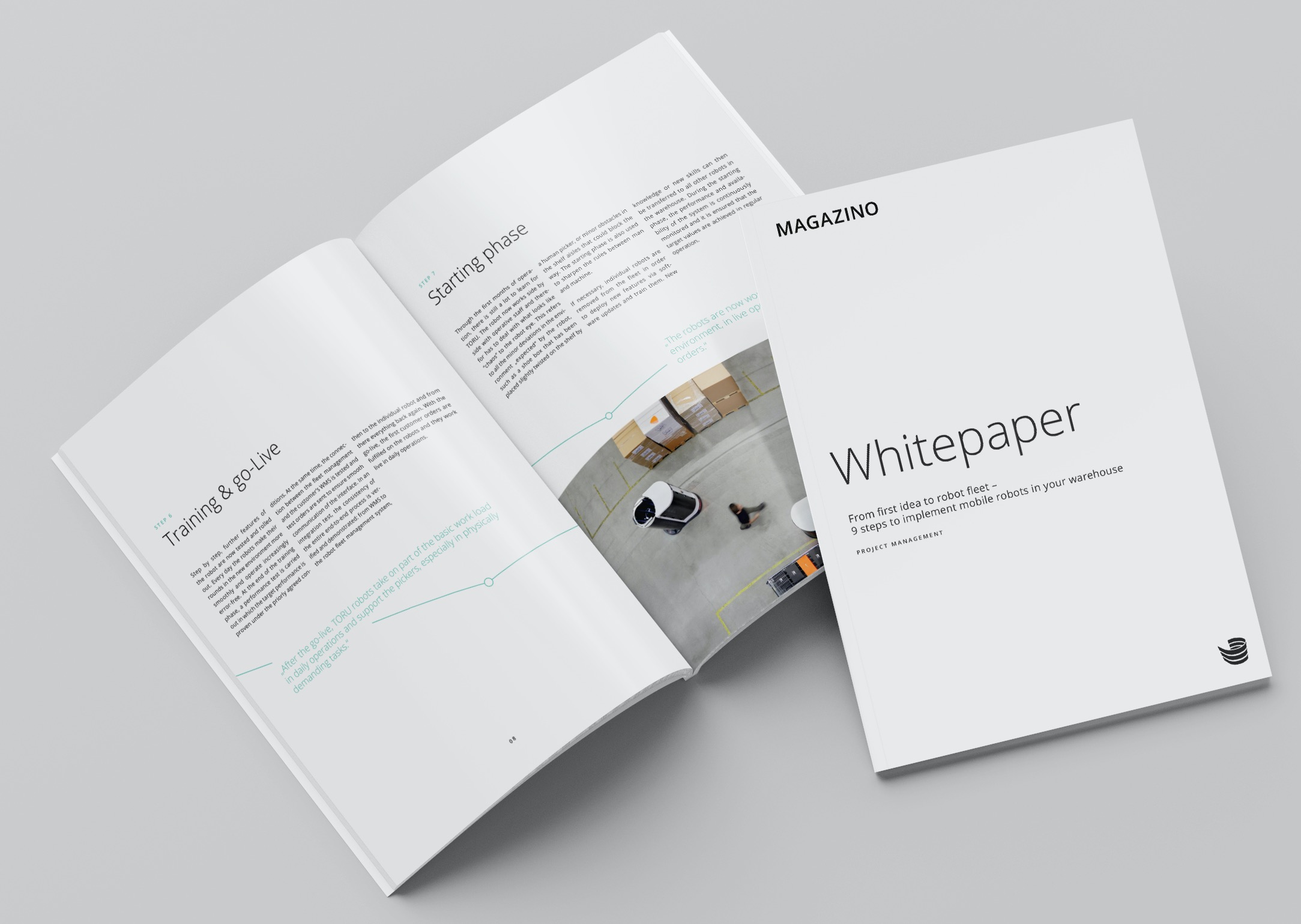 Whitepaper: 9 Schritte zur Roboter Integration
Wie implementiert man eine Roboterflotte? Erfahren Sie mehr über die gemeinsame Reise zwischen Ihnen als potenzieller Kunde und Magazino: vom ersten Lagerbesuch bis zum groß angelegten Rollout einer ganzen Roboterflotte.
Download PDF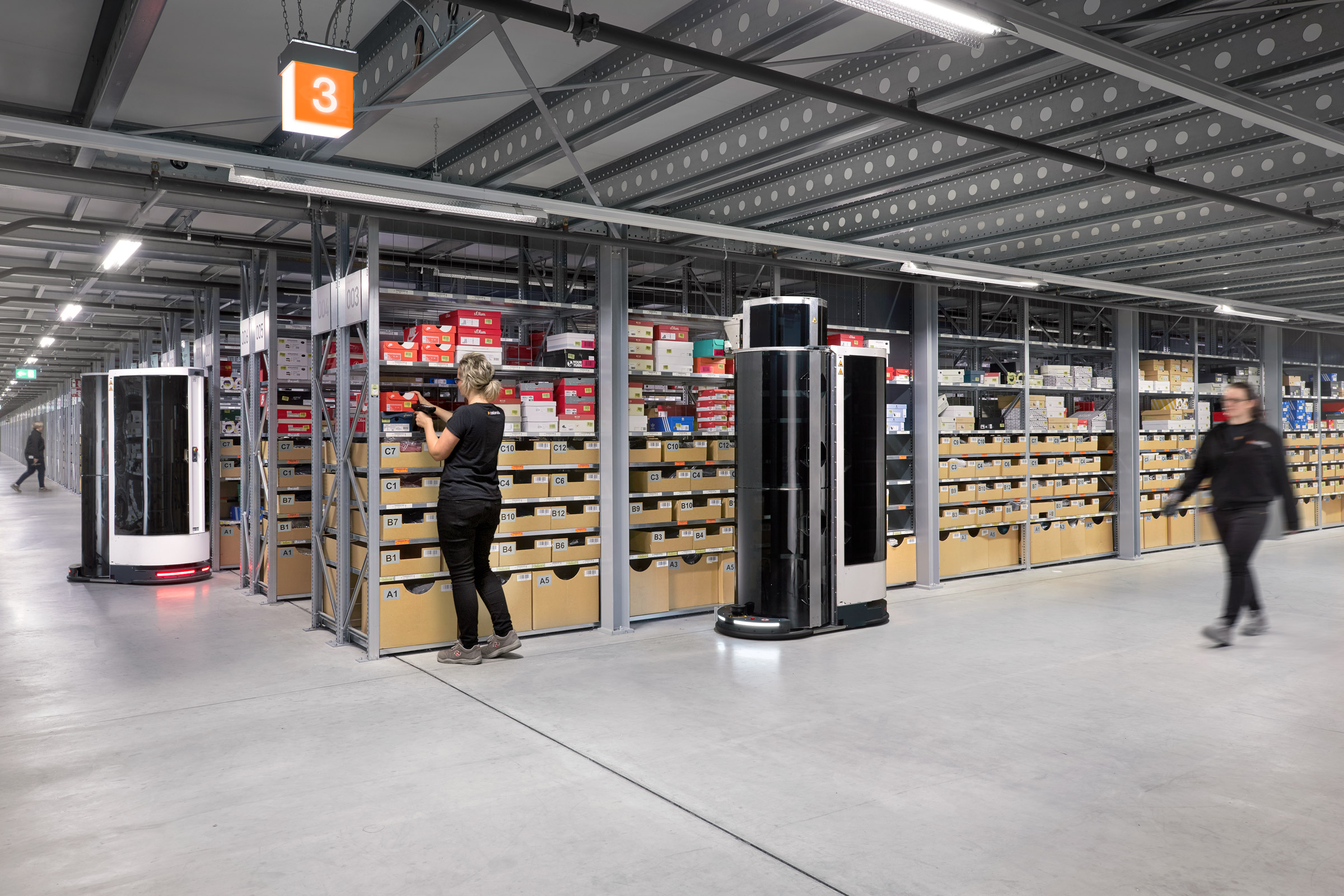 Whitepaper: Fulfillment Automation 2025
Gemeinsam mit unserem Kunden Zalando und mehr als 40 Logistikexperten diskutierten wir, wie die Automatisierung im Fulfillment im Jahr 2025 aussehen könnte. Erfahren Sie mehr über das Ergebnis der Diskussion in unserem Whitepaper "Fulfillment Automation 2025":
Download PDF